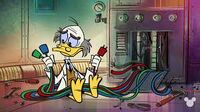 "Oh, dear!"
Due to the recent Wiki Merging, this page has been imported from another wiki, and thus may not be up to the Scrooge McDuck Wiki standards. Your help in fixing it would be appreciated.
A Series of Unfortunate Substitutions is the second half of the 5th issue of DuckTales. It is paired with Go, Go, Golden Years!. It was edited by Joe Hughes and published by Greg Goldstein.
Appearances
Edit
Huey doesn't appear in this story despite appearing on the cover.